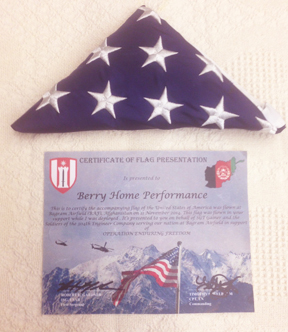 Flag Flown at Bagram Airfield, Afghanistan
Berry Insulation was presented with the American flag and certificate flown on November 11, 2014 at Bagram Airfield (BAF), Afghanistan by our own Staff Sergeant De'Angelo Gainer.
De'Angelo was born in Cleveland, Ohio. He joined the Army in November of 2008 and attended Basic Training at Fort Sill Oklahoma and AIT (Advanced individual Training) AT Fort Leonard, Missouri to be an Interior Electrician.
Staff Sergeant Gainer was Berry Insulation's first employee hired outside of the Berry family over four years ago. De'Angelo has been with us throughout our tremendous growth.
During his career, Staff Sergeant Gainer served as a Section Leader, Squad Leader, Team Leader and M2 .50 cal Gunner. SSG Gainer is assigned to the 486th Vertical Engineer Company, which is headquartered in Monclova, OH. He's also been assigned to the 300th MP Brigade and the 304th Engineer Company Lima, Ohio.
Staff Sergeant Gainer deployed in 2014 in support of Operation Enduring Freedom with the 304th Engineer Company. He spent time in Kuwait and Afghanistan during his deployment. In 2015 SSG Gainer deployed to Canadian Forces Air Base Goose Bay, in the municipality of Happy Valley-Goose Bay, Newfoundland and Labrador. The exercise is designed to enhance international interoperability and military readiness, develop peacekeeping capabilities, and build military-to-military relations between the United States and Canada. We appreciate and thank De'Angelo and all of our troops for their courage and unwavering commitment to the Red, White and Blue. Thanks D!