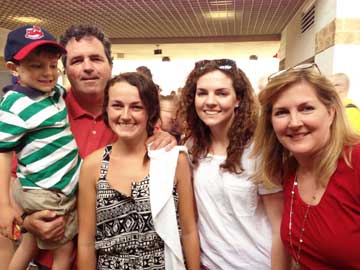 KEEPING YOU & YOUR FAMILY SAFE, COMFORTABLE & ENERGY EFFICIENT
Berry Insulation provides insulation and weatherization services that improve energy efficiency, adds interior comfort and ensures a safe environment to live, work and play in.
Utilizing state-of-the-art technologies and methods, Berry Insulation has earned an impeccable reputation as an industry leader for energy improvement projects to: residential homes, multi-unit apartments/condominiums, renovations/retrofits, commercial properties, new construction and industrial facilities - throughout Northeastern Ohio and surrounding areas.
Martin G. Berry, President and Founder is a certified energy auditor, holds a Bachelor's Degree in Mechanical Engineering and a Master's Degree in Business Administration. Additionally, Berry has over 30 years experience as a practitioner and executive in the engineering and energy management fields around the world.
Marty and his wife Megen are native Clevelanders, avid sports fans, and very active in the community. Along with their children Erin, Caitlyn, Michael and Thomas they have enjoyed life on the North Coast all of their lives.
Berry Insulation is an active participant in residential weatherization programs that Include: Columbia Gas Home Performance Solutions Program, Dominion Home Performance with Energy Star Program, Dominion House Warming Program, both the City of Cleveland, Ohio and Cuyahoga County Home Weatherization Assistance Program, and Habitat for Humanity.
Berry Insulation has successfully insulated and weatherized over one thousand projects within the past four years.
Berry Insulation has implemented the highest standards of quality, capacity and productivity through on-going training and education of its staff. Foremen are all BPI (Building Performance Institute, Inc.) certified Building Analyst and Envelope Specialists. BPI is a national standards development organization for residential energy efficiency and weatherization retrofit work. Berry Insulation is licensed, bonded and insured.